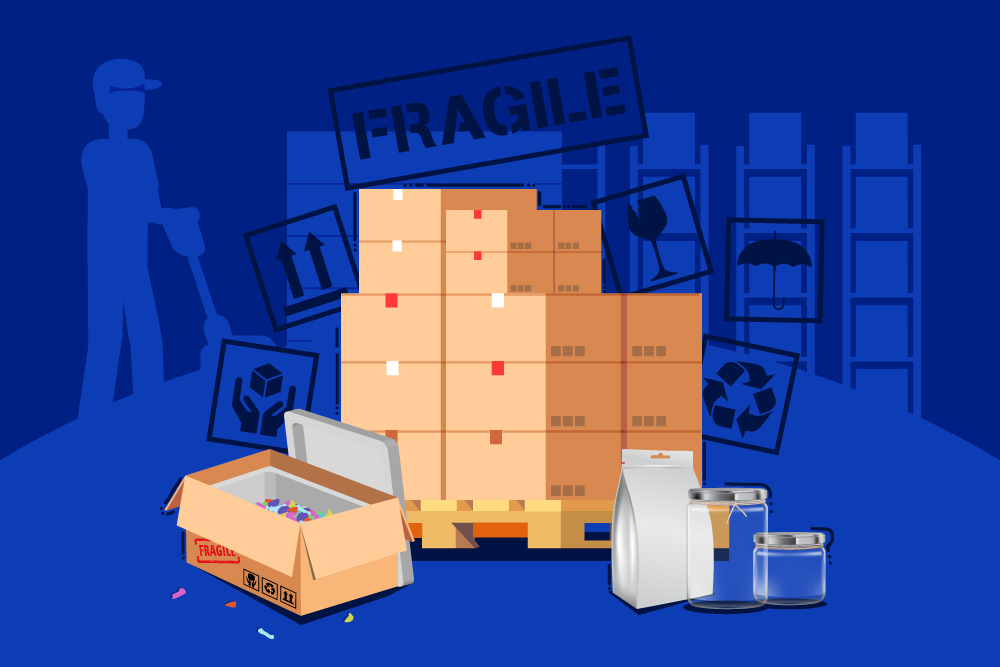 Why do you have to avoid freight damage? If your company is dealing with freight damage, you're unable to get the full amount of damage refunded to your company. Aside from that, you also damage the relationship you have with your customers because they are expecting their products but they will have to wait for the next delivery due to the freight damage. You will not just lose the sale but also potentially lose your customers as they will probably avoid purchasing from you in the future.
In a business that involves carriers, timing is everything. Aside from protecting goods from freight damage, setting an arrival date and preventing filing freight claims should be considered as your top priorities. Only Protecting your goods and delivering it on time is what you call successful shipping.
Freight damage and loss claims may be a result of a natural or man-made disaster. To avoid any form of damage to the freight and also to prevent freight loss, you need to understand proper packing and packaging. And, with the assistance of Offshore Back Office Solutions and Offshore Cargowise Training, you are able to keep freight loss at bay.
Here Are Five Things You Can Do to Avoid Freight Damage and Loss Claims:
Observe Proper Packaging to Avoid Spills and Damaging Other Goods.
Shipment can be a risk to another shipment because there are instances that even the slight turbulence could cause a massive displacement. Packages could get damaged, or worse it could be torn apart. The sealed goods inside could either break or be scratched. Items containing liquids could spill and end up damaging some dried goods. Although this causes a minor damage, it's still a damage nonetheless, and no customer likes to receive a damaged shipment.
Secure Fragile Items With Impact Protection.
Sometimes, packaging alone is not enough to fully protect the goods inside. Even the smallest bumps can mean damaging the entire goods. In this scenario, impact protection is the best option to help you safeguards the goods and reduces risks to occur. Using bubble wrap can help a lot as it provides extra cushioning for the goods and is essentially important for fragile goods or liquids. Ideally, put a hard type of impact protection on the outer package and consider some light impact-resistant for the inside.
Distribute Weight Evenly When Stacking Packages.
When placing the packages on the pallets, make sure that the weight is equally distributed. When turbulence occurs, the goods could move in all directions within the empty spaces in between cartons. As much as possible, packages should be uniform, stable, and balanced. Moreover, load the trailer properly and be wise when arranging the packages by putting the light cargo on top of heavier cargo, liquid below the dry goods to prevent any additional damage caused by leaking.
Labels Reduce Chances of Error in Stacking and Wrapping.
In wrapping, each package should contain a label that cannot be overlooked to avoid freight damage. Labels should be easy to identify. Avoid multiple labels unless they are required or asked by the carrier. Moreover, labels should be free from stains or any damage because such help shippers make pallet-packing decisions and ensure a safe and secure shipment. Also, determining a product's fragility or durability from the seller's brand is now impossible because the world has grown more interconnected. Hence, labels should indicate the content's ability to withstand added weight.
Packaging Should Be Secured and Free of Holes.
Best way to avoid any kind of risks is to double check each box if it's used or damaged. Making sure that packages are secured and free from any form of damage helps both the carriers and the shippers. No assumptions and accusations will be charged to both sides. Secure packaging using a double wrap. Furthermore, you can add more protection by securing pallet to the walls of the shipping container or cargo area.