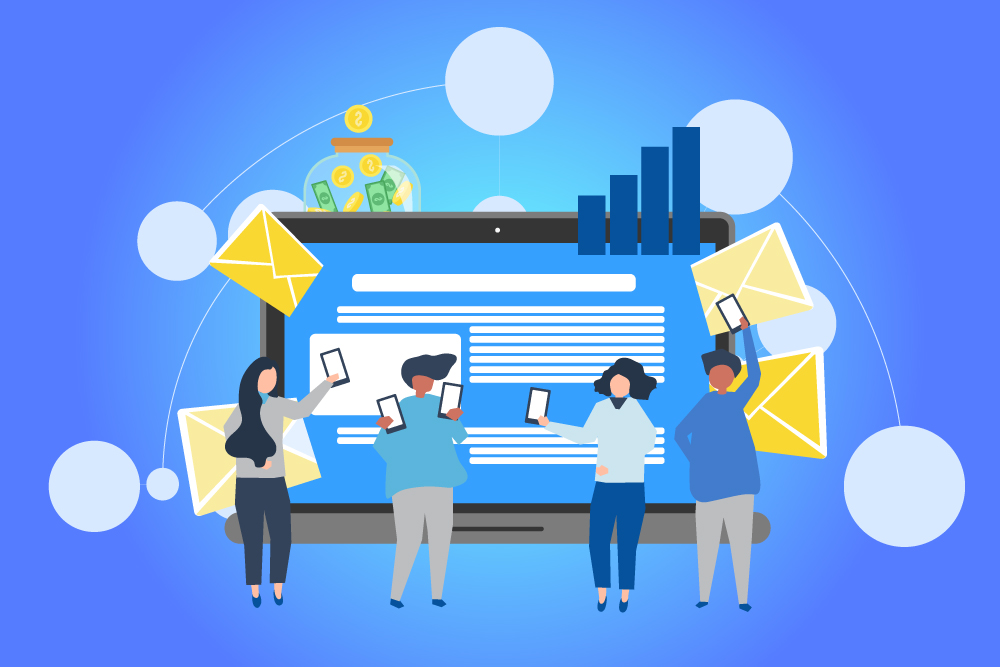 Fifty-four percent of the world's population use email.
According to Colin Nederkoorn, "If you are running a real business, email is still the most effective way to universally reach people who have expressed interest in your product or site. For that, it really can't be beaten". Also, your competitors are also using it. If you want your business to remain competitive in the digital marketplace, you readily have to start using email marketing to reach out to your audience.
See the list below and be the judge.
Email marketing is cost-effective.
Soon there will be new strategies that will arise in the next few years in the digital marketing world, but one thing will always remain the same. Organizations need to find tactics that will make them maximize their marketing budget while achieving their overall goals at the same time. Email marketing. Organizations need to know how to utilize email marketing because it's easy, effective, and inexpensive. It allows them to reach a large number of consumers at a rate of nearly nothing per message.
For any form of businesses, email marketing makes a better choice than traditional marketing channels like TV, radio, or direct mail. Because email is the channel that generates the highest return on investment (ROI) for marketers. According to Campaign Monitor, every $1 spent on email marketing typically generates about $38 in ROI. This statistic indicates just how cost-effective email marketing can be for businesses.
Tap more mobile customers.
Businesses just can't ignore the importance of mobile marketing in email marketing because the number of consumers that uses mobile devices on a daily basis continues to climb. Instead, businesses have to find a better way to interact with mobile consumers to remain competitive in the digital marketplace. With two-thirds of emails being read on smartphones, the most effective strategy for helping businesses reach and engage those consumers is through email marketing.
Ensure your email messages are useful for mobile consumers by creating email content with a responsive design and that's mobile friendly. Why? Because every time a consumer checks their phone presents a new opportunity for a brand to engage that consumer. Seize this opportunity that email marketing offers to get their message in front of mobile users and get the most of mobile marketing.
You can automate the email marketing process.
Until now, email marketing is still one of the most effective channels for business marketing today, and it's evolving. While newsletters and one-off campaigns will always have their place in your email marketing strategy, the smartest companies are starting to set up automated email campaigns that trigger off of user's actions. Why? Because automated emails are timely, personalized, and hyper-relevant to the reader. Consequently, they are opened and clicked more frequently and drive visits and revenue for your business.
It would be a huge waste of time to manually create and send an email campaign to every person when they sign up, so instead, you could set up an automated welcome email that gets sent whenever a new person joins signup list.
The beauty of email automation is you can set up the email once and then as more people continue to meet the trigger you defined, the email will continue to be sent to them without you intervening. It essentially automates your marketing for you and with the help of creative solutions services your email marketing processes will be flawless.
Easy personalized content for improved response rates.
In the context of email marketing, personalization becomes the act of targeting an email campaign to a specific subscriber by leveraging the data and information you have about them. Using the same data, you can work to provide more personalized and relevant content that your readers are more likely to enjoy and act on. Email marketing makes personalized content easy, and this method is a proven way to increase the open and click-through rates and can have a measurable return of investment (ROI). In fact, studies have shown emails with personalized subject lines are 26% more likely to be opened than those subject lines without the recipient's name.
But before you personalize an email, you first need to have information like their name and location stored in your email list. Then the next thing to do is segmentation. Segmentation is an effective tactic that can be used to increase the personalization of your messaging and content. It can also be the process of dividing your subscriber list into different groups based on common characteristics. You can also separate your lists based on the subscriber's interests. Either way can be the key to creating more targeted emails. Get the most out of email personalization by focusing on all aspects of your email.
You can make your email marketing interactive.
Marketing Land predicts that by 2019, digital marketing that's more interactive will have a higher appeal and response rate among various target market groups. Get your business ready by creating more interactive email content. In that way, you can capture the attention of your audience and integrate other channels into your digital marketing. When you get more integrated, you will be creating more touchpoints within your target market.
You can quickly and easily measure your marketing efforts.
Measuring the results is the only way to find out if your business strategy is working. Another thing to look forward in 2019 is the tracking of email marketing. Email marketing is easy to track and measure, and with it you can look at exactly how many people are opening, reading, and clicking through your email content allowing you to determine if your email campaigns are successful and see how much of a return of investment these campaigns are offering your business. When you are making adjustments to subject lines, messaging, and types of offers, you can continue to track success to see which strategies are bringing you the best results.